PSYCHOGEOCAIRN
2019 — NYU Senior Thesis in Digital Media
How do we move through urban spaces? What does that movement look like? What can we learn from it and what emerges?

Psychogeocairn is an installation and participatory art piece that draws upon the psychogeographic practices of the avant-garde Situationist International of the 1960s to prompt questions about spaces and how we inhabit them. Through prompting participants with the "lost art" of drawing maps, the project makes visible the relationships and contexts of New York City's inhabitants in both analogue and digital perspectives.
The installation, through the physical act of drawing and thinking about spaces and visuals, responds to the problem of "narrowness," or unknowingly being stuck in routine, by revealing how our movements and inhabitation of spaces is influenced. Through this responsive act of reflection, we can learn to read and reinterpret our understandings of the urban fabric.
Psychogeocairn was featured in Future Local's June salon event, "The Psychogeography of NYC Music, Nightlife, and Culture" at ThoughtWorks.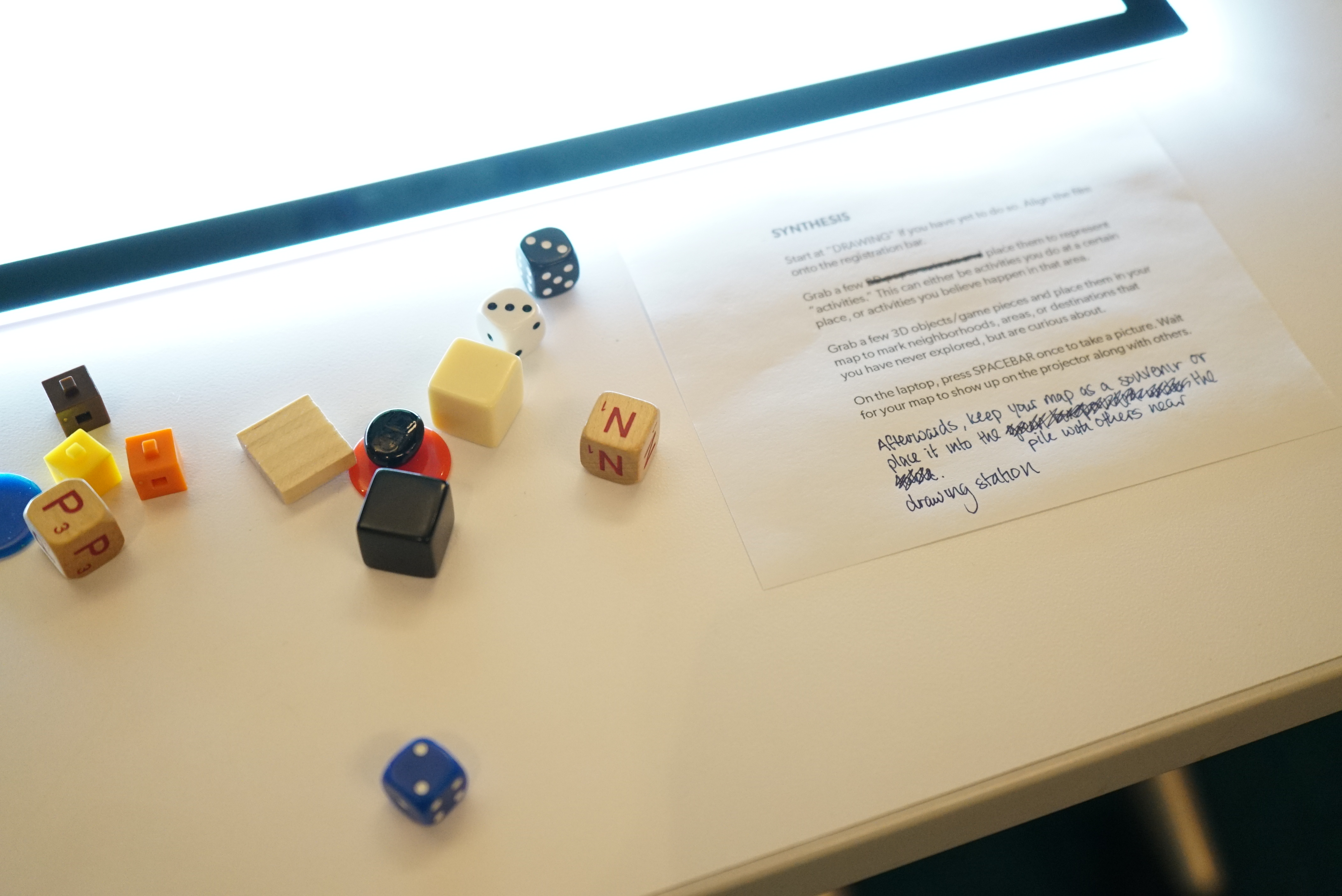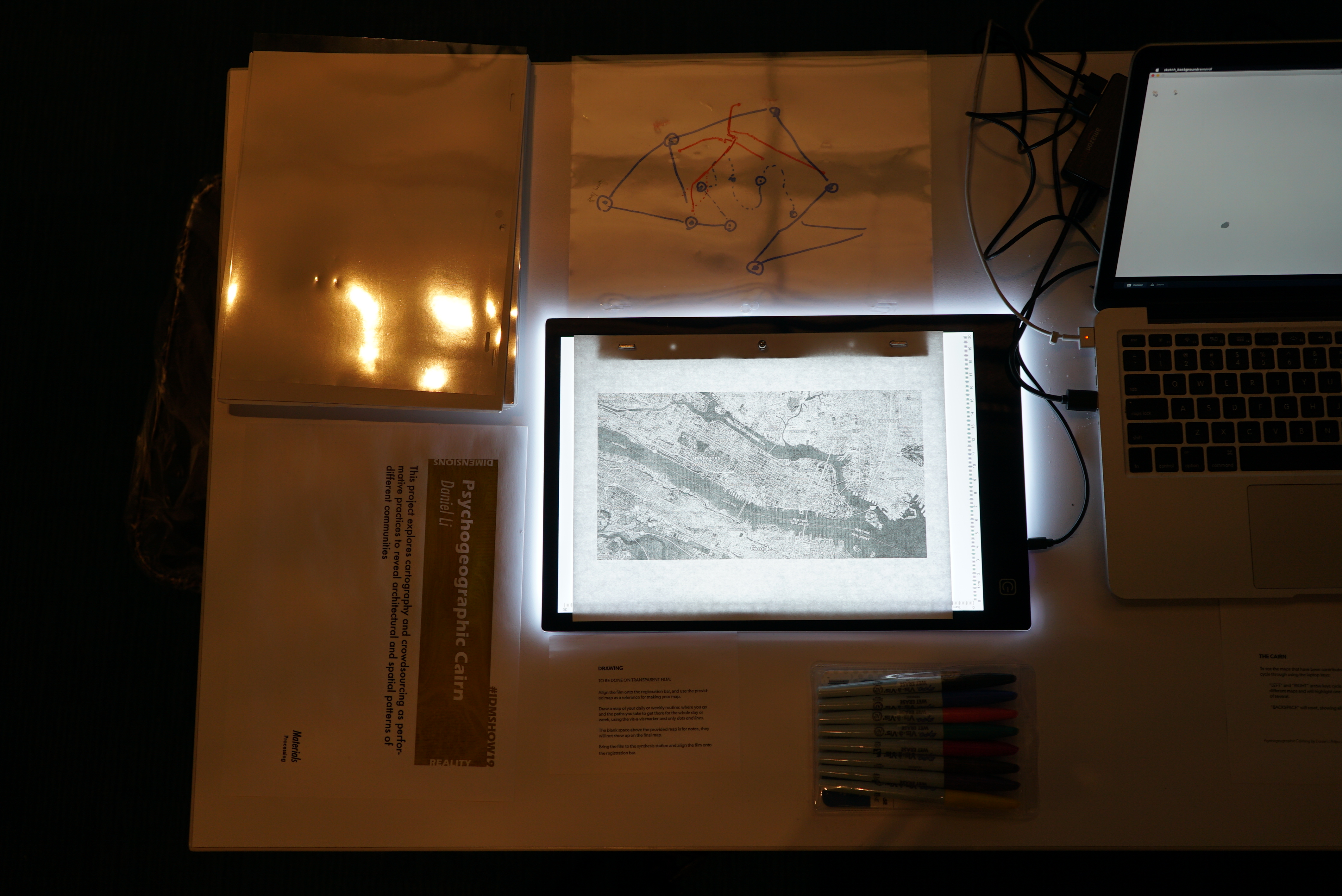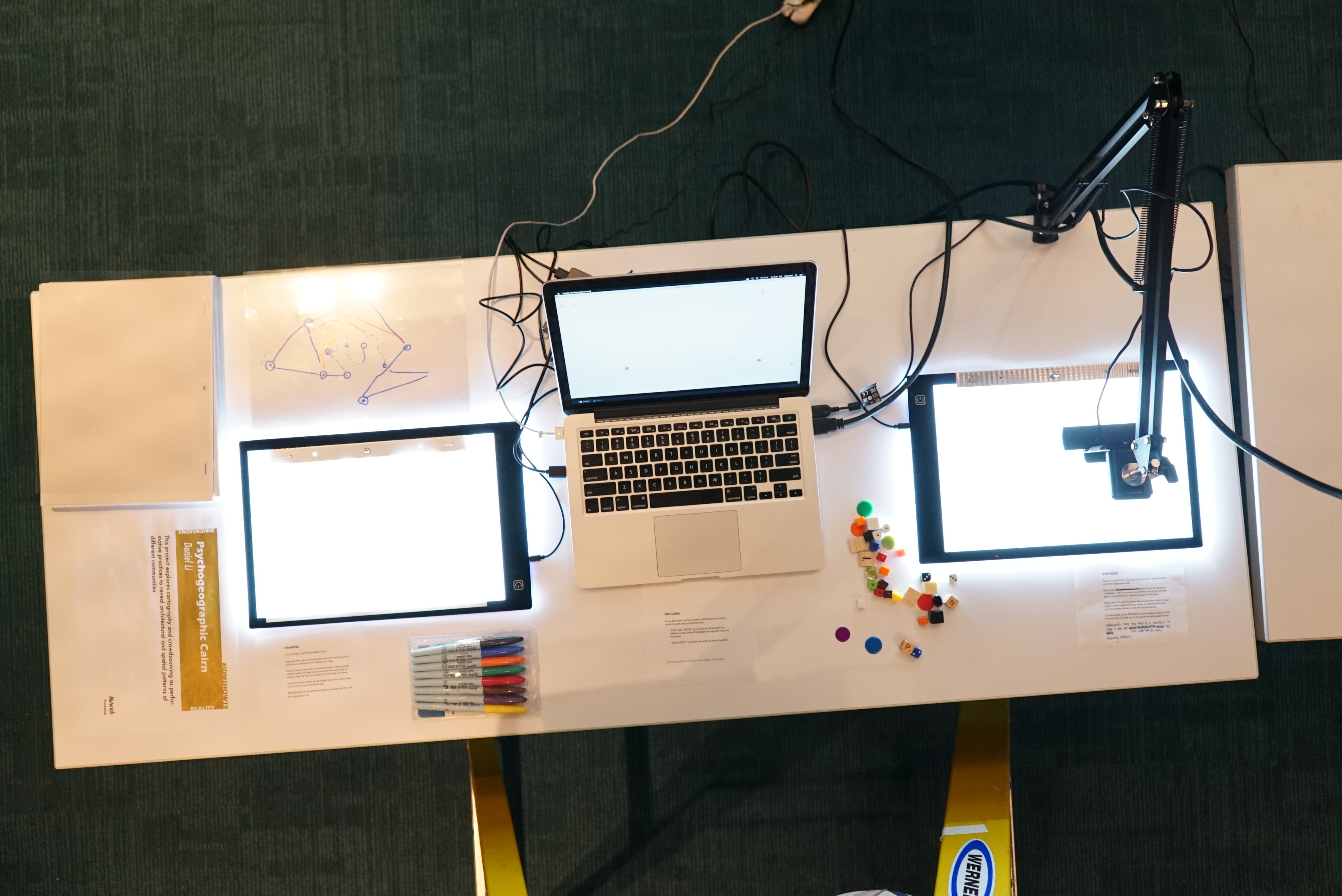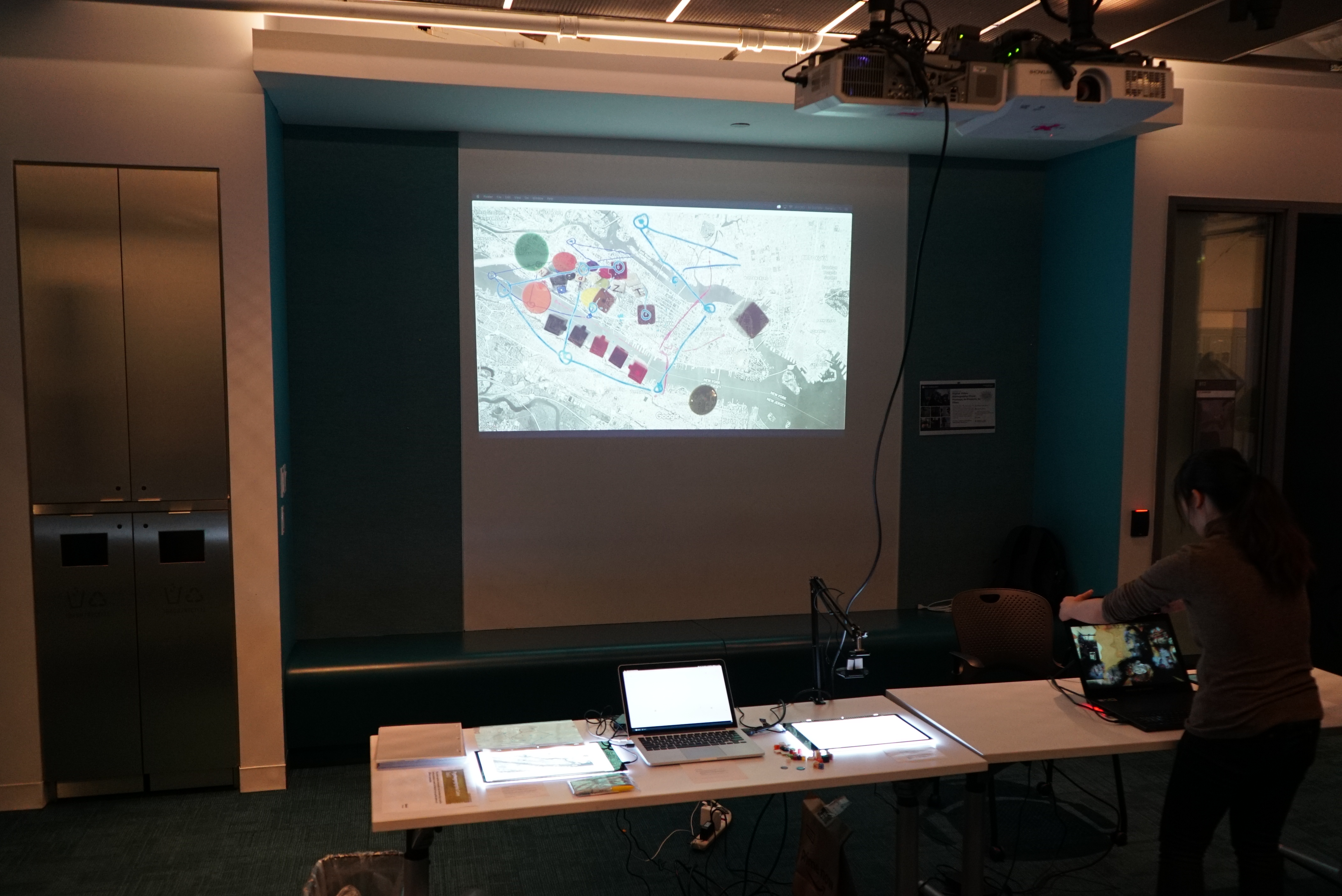 DRAWING AS EDUCATION
Core to the process of reflecting is the activity of drawing. This technique is adopted in architecture fields as one of the primary modes of communicating both the visible and the invisible elements of the world around us.

Psychogeocairn seeks to refamiliarize participants with drawings, how it feels and what it teaches us. Through visual and tactile methods of engagement, it serves as an introductory lesson into psychogeography in a digestible manner.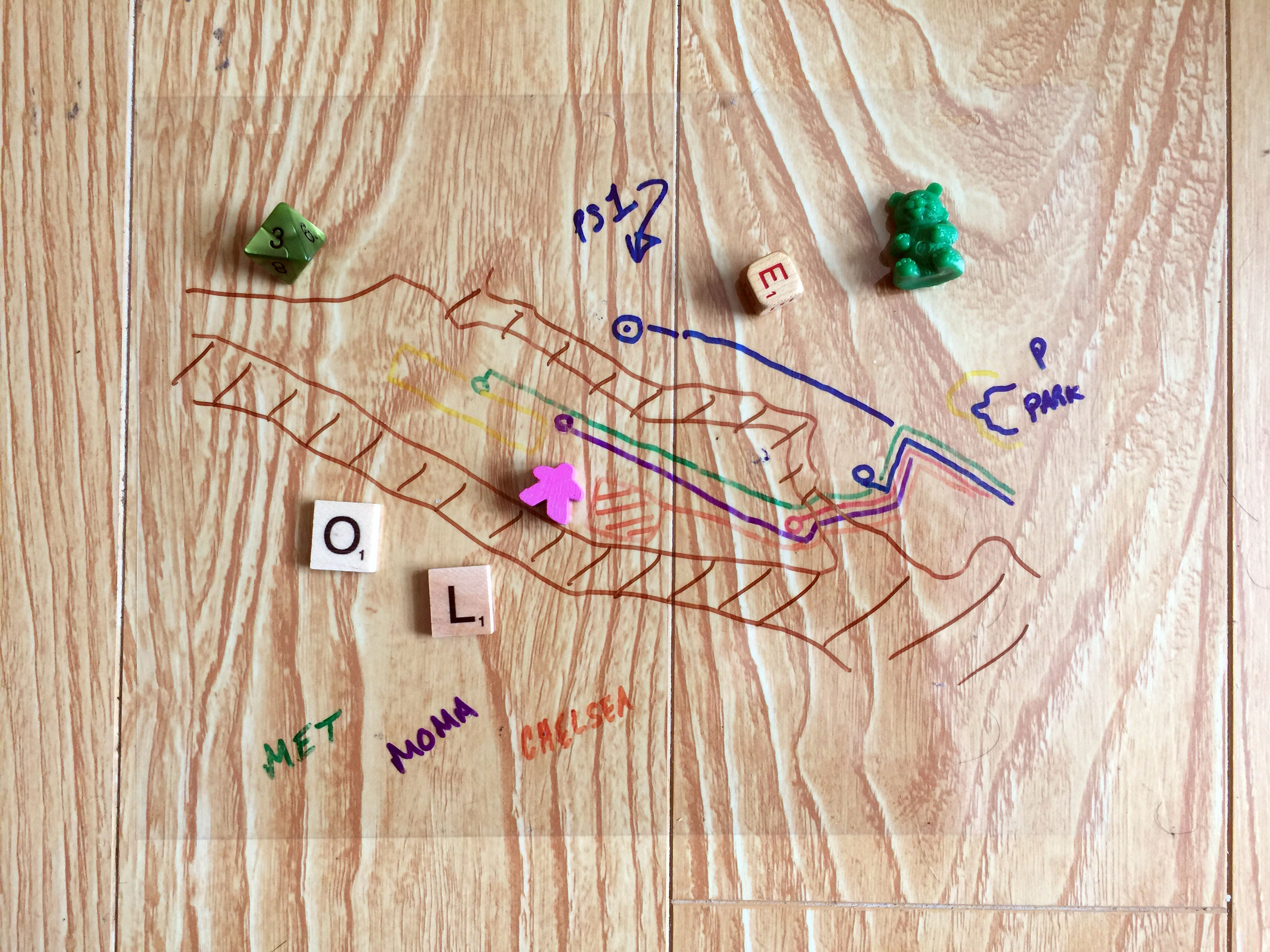 CONVERSING IN MAPS

In order to assert the benefit of drawing as a tool for thinking about spaces, the installation incorporates a procedural activity in which it democratically invites participants to go through the process of making their own maps, to be contributors to a larger conversation about the shared environments we inhabit as well as how we view it.

1. POSITION: This station asks participants to draw a map of their daily routines using a marker.

2. NEGATION: At this station, participants use found objects and game pieces to supplement the map of their routines as markers for points of interest, neighborhoods or destinations that they have never been to, or other spaces outside the normal ("narrow") routine.

3. CONTEXTUALIZATION: After submitting a map of their own, participants can use the laptop to engage with other participants' submissions by scrolling through and seeing specific maps or all at once on the projected screen.
4. DETERMINATION: The projector screen which displays the maps allows people to reflect on the maps that they and others have made, and to attempt to rethink the urban landscape.